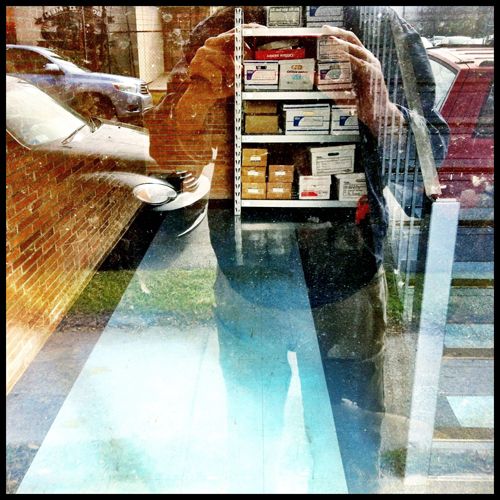 Apple iphone 4 shot within Instagram & processed within Camera+
You can follow my feed on Instagram @themindfuleye.
Creating reflection shots through glass adds to my short list of reasons (that you can read here) about why I am having so much fun making pictures with my iphone. Because of the small sensor size on our camera phones we automatically get an enormous amount of depth of field. When shooting a reflection on glass a lot of people are not aware that simply focusing on the mirrored surface itself may not mean the reflected image will be sharp. You have to take into account both the distance of the camera from the mirrored surface and the distance of the subjects reflecting on the glass from the mirrored surface. One of things that can help to make reflection shots that have multiple planes of reality much more abstract is when all of the different images are relatively sharp. When all of the images are sharp you get something much more akin to a composite where part of one image can become a part of another like the storage bins taking the place of my iphone camera in my hands in the image above. With a DSLR to get the same amount of depth of field to make this effect possible (at an effective focal length of 40mm – the approximate effective focal length of the lens in your phone camera) you might end up having to stop down so far on your aperture that shooting handheld would be impractical. I encourage you to look for opportunities to shoot through mirrored glass with your phone camera. This is a great subject matter for creating images that have compelling layers of story.
Do you have a question about shooting with your phone camera or a question about photography apps for your phone? You can post your phone camera related questions to any of my blog posts and during the week I'll do my best to answer the question within 24 hours.
4 Responses to ""Storage""