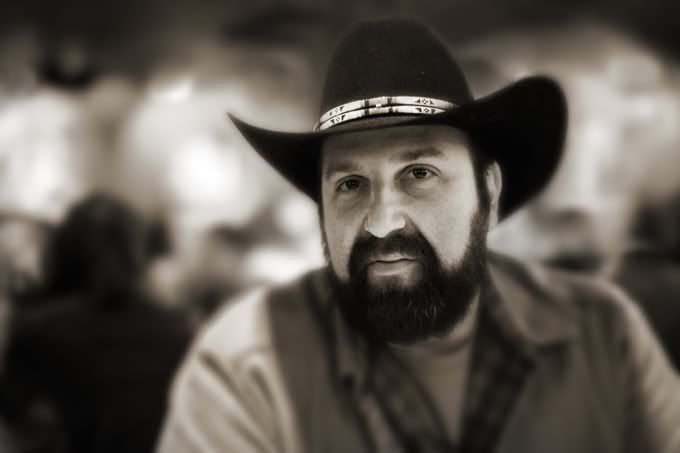 Canon MarkII 1DS f1.4 50mm lens ISO 3200 F1.4@ 1/60th
Theme Week 23: Random Notes from a Western Trip
Hi Everybody,
Thank you for the feedback!
Joe was a participant on the Tetons workshop and is also a represenative for Bogen. Joe is a great friend to Radiant Vista and has become a personal friend of mine. There are a lot of great things I could say about Joe but the best thing I could say is that he loves to make people laugh which is an amazing gift he shares with the world everyday. I love this shot of Joe because I love the way he looks in this new hat his wife Hillary had just bought for him in Jackson. And Flo is right…Joe is just about to say something and more than likely we were all laughing when he was finished talking.
I did alot to this image to simplify including adding unrealistic blurring :). I agree with Gordon about the mystery figure…in fact for me conceptually she is a huge part of the shot…Joe is surrounded by light and in the light…bringing laughter into what is all to often the darkness of despair….represented here by the dark figure with a back turned to the world. I also feel like Joe needs a conterpart from a design standpoint.
The Tetons workshop was another amazing experience. We had such a great group of people and there were several powerful synchronicities, which for me, is always a sign of the presence of the mystery source of everything and reassuring to say the least. One of the synchronicities on this workshop involved a powerful message delivered to me in the form of a poem titled "Wild Geese". All I will say is that it is something I very much needed to hear, and connected to a series of experiences where I had sighted geese. There was a surreal quality about these sightings and I knew some powerful connection in the form of message and meaning was taking place. Miraculously (but no longer surprising) while I was posting this I heard the honking of geese and went out to see a perfect chevron flying over my hotel and a chevron of geese is the picture Craig H.(a Tetons workshop participant and new friend) used to illustrate this poem…so a profound, from the deepest depths of my soul, thank you to mystery for continuing to show us the way towards the ever expanding light of consciouness (home!!!)… Thanks to Joe for laughter and thanks to Craig H. for sharing, among many other gifts, this poem….
"WILD GEESE"
by Mary Oliver
You do not have to be good.
You do not have to walk on your knees
For a hundred miles through the desert, repenting.
You only have to let the soft animal of your body
love what it loves.
Tell me about your despair, yours, and I will tell you mine.
Meanwhile the world goes on.
Meanwhile the sun and the clear pebbles of the rain
are moving across the landscapes,
over the prairies and the deep trees,
the mountains and the rivers.
Meanwhile the wild geese, high in the clean blue air,
are heading home again.
Whoever you are, no matter how lonely,
the world offers itself to your imagination,
calls to you like the wild geese, harsh and exciting –
over and over announcing your place
in the family of things.
"I am certain of nothing but the holiness of the Heart's affections and the truth of the Imagination." — John Keats
9 Responses to ""Joe's New Hat""