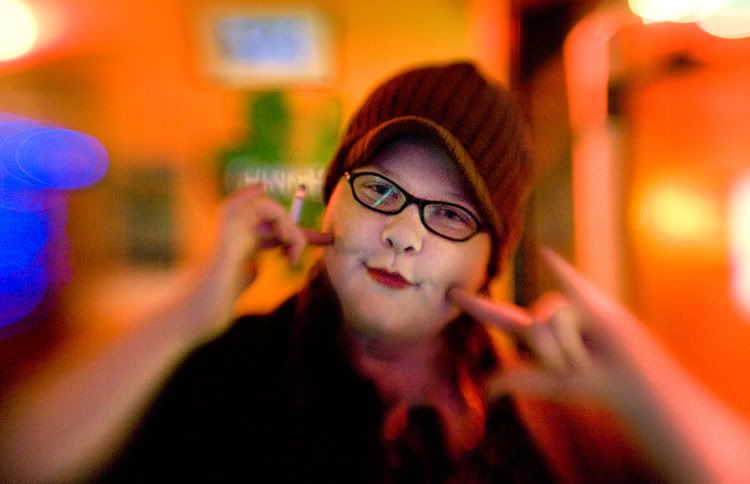 Canon Mark II 1DS Lensbaby Composer ISO 3200 f4@ 1/45th Handheld… available light
Hi Everybody,
Four years ago when I started teaching the Next Step: The Artist Journey Workshops I began my own journey of getting into what I call "Street Portraits" which are mostly impromptu, available light portraits of people I am just meeting (previously known as strangers :) ). I call them Street Portraits but they could be made anywhere (bars, airports, public transportation, etc., etc.,) in addition to on the street.
For a while I have been wanting to start a series called "Hello World" where I ask the people in my Street Portraits one question and record their answer on my Roland Edirol digital recorder and then post their answer with their portrait on my blog. So this is the first in the installment. I will stick with one question for a while. These posts will appear on my blog intermittently as I am able to create them. You can click "Hello World" as a category to see them all. I will post a short backstory about the person and how I met them. And of course I will post the question. Would love to get your suggestions for future questions.
This is Victoria. I met Victoria in my favorite bar in Savannah, Ga….. Guitar Bar. Victoria is a painter, teaches middle school art, is a great conversationalist, and has a great presence and is very generous and open. When I asked Victoria if I could take her picture she spontaneously posed like this. So many people are afraid in front of the camera and just shut down. Thank you Victoria for being fearless !
Here is the question – but first a note about this question. One of the ideas behind The Next Step: The Artist Journey workshop was to help photographers grow their art by identifying their biggest fears and then help them go past the limit of their fear. When I began the Next Step workshops my biggest photographic fear was approaching and photographing strangers (now affectionately called the "strangers I know" :) ). It turns out I wasn't alone. Approximately 90% of the 121 photographers who have participated in the Next Step Workshops have had as their biggest fear the same fear. Now for the amazing part. Approximately 90% of the strangers we have approached during the Next Step workshops have said yes to having their picture made. Many have become dear friends and have helped us to build a community for our workshops in Savannah that has been nothing short of a miracle. For many participants of the Next Step workshops the experience has been life changing. And most of the life changing experiences that have happened on the Next Step Workshops haven't come from anything except a miracle that is the nature of our existence if we are willing to let down our guard, get out of our own way, and connect to the love that is all around us all of the time. I call it the 90 / 90 rule. 90 out of one hundred are frozen by the doubt that has been created by choosing fear based beliefs (stories we make up about the future to protect ourselves from the worst case scenario) instead of action. 90 out of a hundred, if you are willing to break the ice and take the risk to get the connection started, will not only say yes to you as a photographer – many will open their hearts and share with you the connection and community we are all longing for. When we are willing to "let our light shine" a world of abundance and connection opens up to us as photographers. We can all be very afraid of rejection. But the nos are evidence of being on the path and we have seen many, many nos turn into yes…especially when the story we tell ourselves (our belief) about no is not yet!!! And remember…once you get the hang of it its mostly yes all of the time! :)
So…the first question….
"What would you say to a photographer who is afraid to ask a stranger if it would be OK to take their picture?"
Click the player to her Victoria's response:
[audio:VictoriaHWLD.mp3]
10 Responses to ""Victoria""