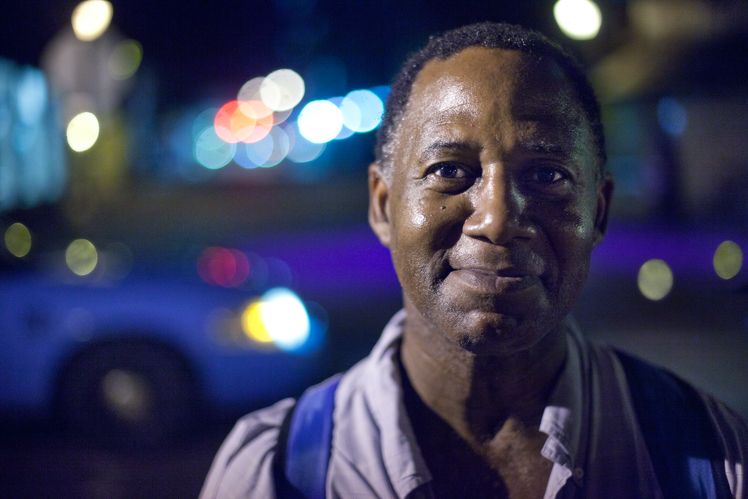 Canon 5D MarkII f1.4 50mm Lens f1.8@ 1/250th ISO 5000 handheld existing light: "James Bond" on Congress St.
I first met "James" about a year ago teaching a Street Portraiture workshop. He asked to speak with me but I was helping a workshop participant one on one and I asked him if he could wait. And he did…..for about twenty minutes…. which considering the context was startling. What was even more startling is the beginning of our conversation once the wait was over. With a conviction that unnerved me "James Bond" walked right up to me and speaking in a rushed but hushed voice told me he was an interdimensional being from another planet, that we had known each other in a prior life and that he had an extremely urgent message for me. Is he crazy? No… on the contrary…..he is a great street performer. Because I was teaching a workshop I didn't get a chance to photograph him that night but last night I did. I chose this shot out of a bunch of images because to me it captures at least some of his amazing charisma and ability to connect with people on a very deep level in an extremely short period of time. If there was only one thing I could encourage you to do as a photographer it would be to meet and photograph "strangers".
I also wanted to share a poem that "James" recorded for me and my friends last night. Hysterical and profound.
All My Children by "James Bond"
As the world turns
some of us are rich and famous
and there are some of us young and restless
but some of us are bold and beautiful
in our family matters
as the wheel of fortune turns
some of us are living in jeopardy
and some of us are living outdoors
but some of us had time for life
only because of our wonder years
some of us have little houses on the prairie
most of us are in deep space nine
in search of another world being guided by the light
and if the price is right
some of us can come back home again in the heat of the night.
6 Responses to ""James Bond""